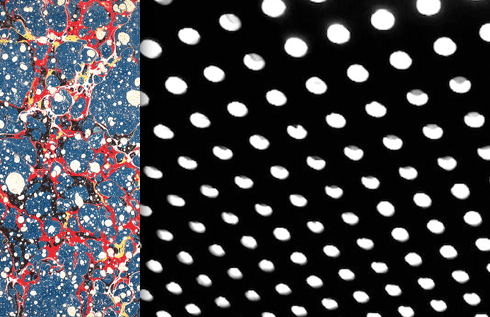 Beach House have entered their major era. And to try to understand why my ears tell me this is so, I read interviews with the band, but since any good band has already said all it intends to say by the time its latest album is released, this only lands me further from understanding. "I won't be distracted by words. I won't be," singer Victoria Legrand says at the end of a recent Under the Radar feature. But she says at least one thing that really illuminates what's so special about her band's new album Bloom: "We wanted everything to have that massive tone, that authority, like seeing everything from above." She's trying to get at what separates Bloom, in her imagination, from Beach House's previous album, 2010's masterful, sleepier Teen Dream. I share her frustration over any casual comparison of the two albums, but where she finds Teen Dream the more optimistic of the pair, I'd bestow that description on Bloom, maybe for no other reason than its "massive tone," its alertness. The feeling of a Beach House song, more and more, is determined less by emotion than by scale. Or, shall we say, scale is the emotion. (And if that's a nonsensical thing to say, just consider it my bastardization of Roger Ebert's rule that "no good movie is depressing, all bad movies are depressing." A Beach House song never lacks the euphoria of good, vital art.)
This is all prelude to a description of Beach House's current live show, which is big and swarming, finding a way to translate what is looped, programmed, overdubbed, multi-tracked, etc., on record, into a real live performance, one that still ends up roughly the size of M83's Hurry Up, We're Dreaming. Legrand plays keyboard in the center of the stage, guitarist Alex Scally sits to her right (very close to the floor and out of sight, so that I could only assume he was responsible for the intricate, circular melodies, so vividly heard), and aside from some mechanical drumbeats, which live drummer Daniel Franz continually overpowers anyway, the band relies very little on non-live sound. For the multi-tracked vocal finale of "Lazuli," Legrand looped her voice on the refrain and sang the other parts against it. But that came off less as a shortcut than a risky and workmanlike adaptation, and it's always great to hear a person sing with herself, so quickly can it become infinite.
As for the visual strategy, it starts and ends with Legrand and her heap of malleable artist's hair. For some of the band's hazier, older songs, she was lit from the side as if by headlights through Venetian blinds, like Barbara Stanwyck in Double Indemnity. And when some technical screw-up put Scally out of commission for a few minutes, she spoke to the audience, calling us creative and attractive people (how did she know?), wondering what the future might hold for everyone but happy to have this night while it lasted. In general, the kind of positivity that her music does a better, more subtle, ambivalent, mysterious job of capturing. Later, she said that through all this speaking, she had "exhausted her organism," and would not be speaking to us again. Her organism must not exhaust so quickly in music: The band played 18 big ones.
Opening act Wild Nothing sound similarly emboldened in the age of M83. At first I thought them the victims of bad sound, but then I looked up toward the ceiling, I closed my eyes (because nothing is ever certain when you're looking directly at the band), and I began to hear the music as unusually saturated, dense. The venue teemed with sound, and if you looked around you'd catch it. Looking head-on into it, without this preparation, could prove claustrophobic. Anyway, the amazing progress of this band over the last couple years can be found in an aural history of their song "Live In Dreams." In 2010, on debut album Gemini, chief Nothingness Jack Tatum uttered too weakly the song's great refrain (the one about lips not lasting forever). In 2011, in a bar in St. Paul, he sang the chorus more intensely, at a higher pitch, and the backing was more muscular. In 2012, those changes have been codified, and the band now blasts the song as an eternal anthem, in mid-sized theaters. At the Sunshine Theater, the band alternated Gemini favorites with songs from the forthcoming Nocturne. These new ones are dense, dynamic, almost New Order-heavy, and sturdy in their romantic lyrical tropes (one seemed to be about the chains of love, another about feeling high in the presence of a girl). If the very fine single "Nowhere," released earlier this year, sounded like a new direction, a breezy change of pace and a great Go-Betweens homage, now it seems that Nocturne will find Tatum redoubling on his dream-pop ambitions, making the songs as intense and memorable as he can.
Beach House:
Wild
Gila
The Hours
Norway
Other People
Lazuli
Heart Of Chambers
Equal Mind
Used To Be
Silver Soul
New Year
Zebra
Turtle Island
Wishes
Take Care
Myth
10 Mile Stereo (Encore)
Irene (Encore)
blog comments powered by

Disqus