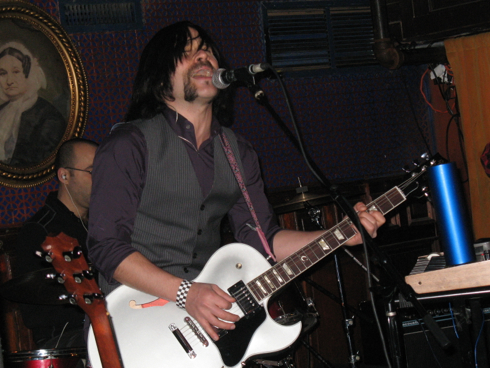 18 December 2012
This Brooklyn trio is led by native New Yorker Jason Brody, whose first solo record, 2004's To the Quick, was followed by a 2006 self-titled EP released under the moniker The Death of Jason Brody. The latter's name implied the "killing" of his persona in favor of a full-band modus operandi, but it proved too confusing for audiences. So the band settled on At Sea (I'm not sure if the name was influenced by The Comsat Angels song from their classic 1981 second LP Sleep No More), releasing a superb EP in 2009, and following that up with the even better, just released full-length A New Machine. Naturally, their set focused on the new album, showcasing eight of its ten songs, along with the EP's "There Were Happier Ways to Go."
Stefano Baldasseroni & Pier Paolo Pappalardo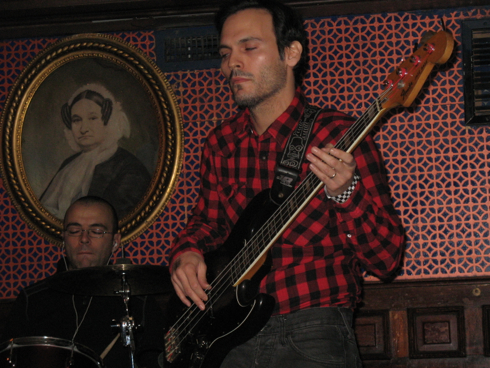 Jason Brody

As I learned when I saw them in October at Manhattan's Bowery Electric, they now feature a brand new, upgraded rhythm section – bassist Pier Paolo Pappalardo (ex-Phenomenal Handclap Band) and Italian-born drummer Stefano Baldasseroni – who have replaced the otherwise excellent one which played on the records. Thus, the "potent punch" and "hefty, vibrant arrangements" which I used to describe Machine in my issue 71 review now pack double the wallop with this lineup! And although the snappily-dressed Brody had his keyboard and an acoustic guitar on hand, he rarely used them. Instead, he mostly stuck to his electric guitar, from which he whittled plenty of dreamy, glistening effects, garnishing each tune with his impassioned, falsetto-laden vocals. On set highlights like "They Won't Find Us (Panic Room)" and "Stations," and especially the closing "These Stolen Hours," the band built up such vigorous, colossal crescendos, I thought Union Hall's upstairs bocce courts might collapse on top of us.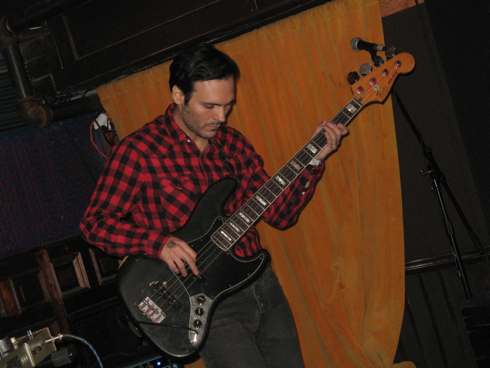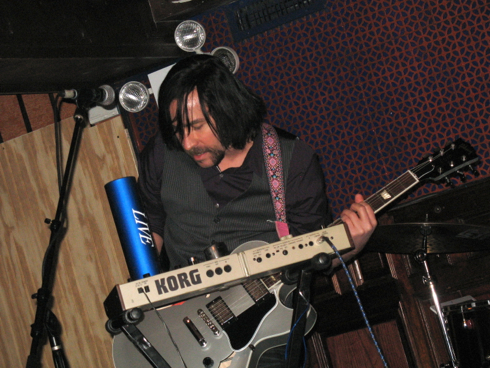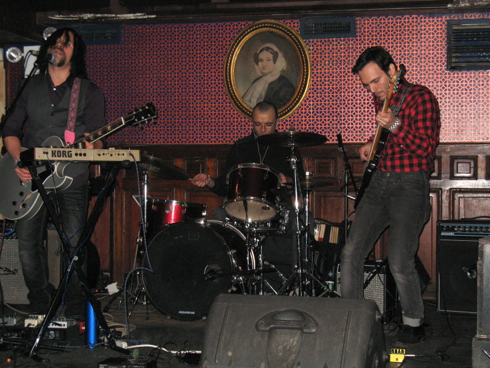 At Sea were the third of four bands, but I also enjoyed the other two I saw (I missed the first band, Brooklyn's Jane Eyre). Prior to the show, I mistakenly sampled the wrong band named Gift Horse on BandCamp — there's another one from Athens, GA that plays a grungy shoegaze. But New York's Gift Horse, who went on second, sounded much different. They're a slightly fuzz-tinged, easy-on-the-ears guitar pop foursome led by clean-cut, sweater-vest wearing singer Paul Bolinger, who bore a striking resemblance to actor Kyle MacLachlan. Not bad – I just hope no lawyers need to get involved!
The Oats

Finally, headliners The Oats are a youthful (early 20's) quartet from Mexico City who were finishing up a six-month visit to New York. They must've gigged a lot while here, because they were loose, raucous, and energetic, confidently bashing away on their instruments with abandon, as if they were The Beatles playing The Cavern Club. (One of their two singers, Andres Mora, even resembled a young mop-topped Paul McCartney, while their constantly grinning bassist, Alfonso Rodriguez, looked like he was having the time of his life.) Keep an eye on them, they're good!