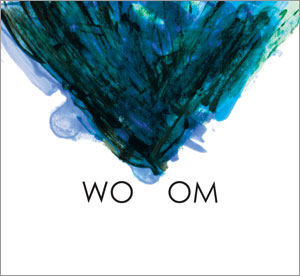 Like most debuts, Woom's first album is full of potential and trajectory. In a single listen, you pick up the mechanics of the band working through each song, choosing the effects, and layering their loops. First impressions give the album a decidedly DIY feel and when the band asserts its voice it can be – contradictorily – both unique and like any number of artists that have come before.
If you are charmed enough to hit repeat you are in for surprises.
Sara Magenheimer and Eben Portnoy pair up or trade off in singing duties. In "Backwards Beach", they sing together like a lo-fi Lee Hazelwood and Nancy Sinatra. Magenheimer's sings alone on "The Hunt," her voice is childlike and counterpoint to a style reminiscent of Tune-Yards, where the power of the song builds when each element is added. Another track, she breathes repeatedly "OK" in small Laurie Anderson self-assurances.
Certainly, there's room for improvement. The mix of cricket and nighttime sounds on "Foggy Dew" could be evened out. Sometimes, the lack of a drummer is revealed when percussion feels a little thin or cobbled together. Nothing's unforgivable and these moments are interesting because you become giddy to see where they could go next.
What is so captivating about Woom is granted to listeners who don't cast them off after a single play. In a decade of indie music that is defined by deconstructing a sound and re-assembling it in an effort to grasp its form, Woom takes an unexpected approach. They begin unassuming and with each pass, the band's voice becomes more defined and more confident. Mu's Way is about tracing the contours of each song, feeling out the edges, until the songs are more fully revealed. With more familiarity, the album becomes more rewarding.
A star on the album is when Portnoy takes center stage on "Sister." His guitar is a joy, easy and effortless. With a hint of castanets, Portnoy delivers the song as casually as "walking in the ocean wind / calling my friend again." Any song that mentions a balaclava in it has to be cool, right? Another gem is the oompah-pah of "Salt." Magenheimer unrolls the lyrics like the simple wisdom found in those first High Places songs: "Time feels like a landfill / to bury ourselves / Time moves like an earthquake / the ground shifts to reorient itself." A prediction I hope doesn't come true too soon.
blog comments powered by

Disqus