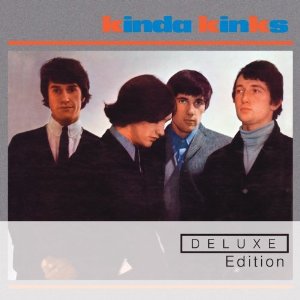 As the Kinks' sophomore LP from 1965, Kinda Kinks is frequently overlooked for not containing any of the band's high-octane hits. It's far more introspective than its predecessor Kinks, which bore the lightning shot of "You Really Got Me." Compare this to Kinda Kinks' best recognized song, "Tired of Waiting for You." The cut drips with authentic pathos, but was made to sound drowsy and fatigued on purpose (despite Mick Avory's lively drumming). Although it may be uptempo, the band's cover of the Martha and the Vandellas hit "Dancing in the Street" just might top the very short list of Kinks throwaway tunes. With a propulsive beat and the sharp snap of Dave Davies' guitar, "Come On Now" is the catchiest of the set's clutch of bona fide rockers.
Whatever drawbacks the album may possess, Kinda Kinks marks an important period for the young Ray Davies as a songwriter. The material focused him, requiring him to write on demand and under deadline, while still digging to find nuggets of personal truth to inform his music. "I Wonder Where My Baby is Tonight" and "So Long" mine the depths of a careworn mind. "Something Better Beginning" reveals that Davies wasn't wallowing in gloom and doom, however, concluding the collection with cautious optimism.
The album's secret weapon was revealed when Wes Anderson included "Nothin' in the World Can Stop Me Worryin' 'Bout that Girl" in the soundtrack to his 1998 film Rushmore. The song plays like a tense and paranoid older sibling to Simon and Garfunkel's 1968 #1 single "Mrs. Robinson," with a haunted vocal performance to match the restless blues of *Dave Davies*' acoustic guitar. Forty-six years following its original release, this one is still capable of raising the hair on the back of your neck.
The first disc in this set includes the original twelve-song album. The second disc includes "Set Me Free" from the US release, alongside other singles, demos, alternate takes and a live set recorded at the BBC. Key tracks on disc two include "See My Friends" with its sitar-like drone, and the jaunty "A Well Respected Man" from the Kwyet Kinks EP.
blog comments powered by

Disqus