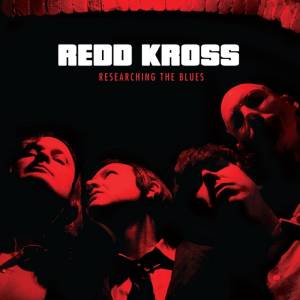 Redd Kross has never exactly been a prolific band. 7 albums in 30 years does not make for a heavy work ethic. At a performance last week in NY, guitarist/singer Jeff McDonald jokingly blamed it on "being lazy". With other offshoot projects over the years (Tater Totz, Ze Malibu Kids, and bass player/singer Steven McDonald's recent stint in the L.A. early 80's style OFF! being just a few), the brothers McDonald have been somewhat productive, but the Redd Kross releases have been few and far between.
Their new album Researching The Blues (the title is somewhat of a misnomer- there aren't a whole lot of blues echoes in the songs), continues RK's tradition of heavy power pop with expertly played fluid bass lines and smash bang drumming (courtesy of non brother Roy McDonald).
Since their bratty pre-pubescent (Steven was 11 when the band started up and Jeff was 15) punk beginnings as Red Cross (the relief organization sued them to change their name), Redd Kross has been a purveyor of mutant pop culture references (paeons to Linda Blair, Beyond the Valley of the Dolls and Charles Manson all appear on their first album Born Innocent).
Teen Babes From Monsanto continued the trend- a cover album paying tribute to Kiss, David Bowie, The Stooges and the TV series Bewitched .
As they moved out of their teens, Redd Kross became more power pop oriented, with the psychedelic Neurotica (1987) and hook laden albums Third Eye (1990) PhaseShifter (1993). 1997 brought the poppier but less powerful Show World.
And then… nothing album-wise until 2012.
The good news is that the band is back and stronger than ever. Aided by Neurotica-era guitarist Robert Hecker, Researching The Blues finds RK with the hooks to keep this album on constant rotation.
Says Steven: "It has the most singular artistic vision of any record we've done. It's just 10 really fucking awesome songs that have the ability to move you in many different ways."
Opening with the fiery title track, the harmonies bounce in and around undulating wah-wah guitars. I'm a sucker for snaky basslines and this album is full of em.
"Stay Away From Downtown" is instantly singalongable- complete with sha-la-la-la-la's. In fact the whole record- from "Meeting Frankenstein" to "The Nu Temptations" to "Choose To Play" is one big bag of hooks. I can't wait to get the lyrics and learn em all.
The last song on the album "Hazel Eyes" sounds like it coulda been an outtake from Rubber Soul.
10 songs of perfect hard power pop. All killer, no filler. My favorite album of the year.
blog comments powered by

Disqus