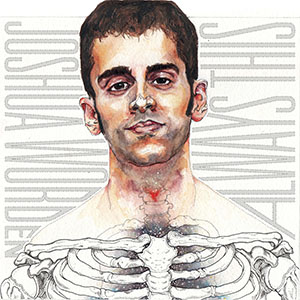 I have a confession to make. One night I took a cab home, and I was accompanied the entire ride by the most generic, hilarious R&B. It was blasting so loud I knew it could be the work of none other than the cab driver himself, and ever since then I have been hesitant, no afraid, to listen to anything marked with the appellation "R&B." However, as suspicious as I was, I listened to Joshua Worden's new album, Always This, anyway, and I was blown away by what I heard.
Warden's voice is so good, and his hooks so infectious, it's hard not to fall in love. Occasionally, the album slips into mediocrity, "The Skies Glowed" being an example of this, and often each song begins the same way with nothing but a slow beat, but brilliant highlights such as "The Road" more than make up for this and although the songs may always begin the same way, Warden shapes and molds the song so much, by the end it's a completely different being. I must also not ignore that "Midnight," is so ridiculously catchy with it's simple, repetitive nursery rhyme melody, that this ear-worm will be stuck in your head for days.
Warden is also a terrific, and smart, songwriter, many times picking unusual topics for this genre, so that if he should ever slip into generic pop melodies, his lyricism more than makes up for it. "The Hunter" is a perfect example of this. While the instrumentation is nothing new, the lyrics are so different, and so beautifully poetic, that a song about a squirrel hunter ends up being surprisingly sexy anyway. You wouldn't think it, but yes, a hunting song ends up sounding sex-fueled through the voice of Worden.
Modern R&B artists like Frank Ocean are getting most of the attention these days, but in my book he doesn't hold a candle to Worden. Relating back to his lyrics, Worden comes off as sexy without ever coming across as misogynistic or sleazy, which, with music like this, is almost impossible to pull off. I can easily say Worden has converted me, and made a new fan out of me. It's not as good as my favorite Sade, but thanks to Worden I am no longer afraid of late night cab rides and smooth jams.
blog comments powered by

Disqus