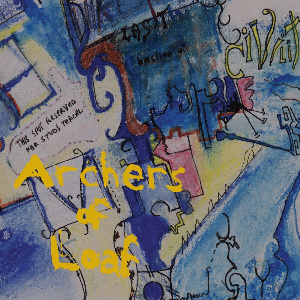 2 August 2011
It's hard to believe that Icky Mettle, the debut LP from indie rock heroes Archers of Loaf, is nearly 20 years old. I remember the fuss over this 1993 platter when it first came out – in what the publicity materials quote Spin as describing as "a tremendously optimistic time in underground music, that 15-minute period in the early 1990s when it looked like indie rock really might take over the world." I have to admit, I didn't buy into it then. I heard bands like Pavement and the Archers and thought, "Is this what music's come to? Not giving a shit has become cool? Indifference has replaced heart? Count me out."
Of course, listening to Icky Mettle now, I realize how wrong I was. (About Archers, that is. I stand behind my loathing of Pavement.) To my current ears, the North Carolina quartet owes a lot less to Pavement and its slacker-chic ilk than I first perceived, and a lot more to Fugazi, Sonic Youth and the Pixies, with aggressive vocals, shifting dynamics and guitars that grind and slash. But the Archers definitely have their own thing here, with a keener sense of melody than their forebears and more comfort with a sense of humor. Two decades on, the thrashing rock of "Sick File" and "Backwash," moody rumble of "Wrong" and "Slow Worm" and inchoate passion of "You and Me" hold up better than most indie rock of the era. This is the sound of a band applying craft to its indie theatrics, without becoming slick – a precarious but impressive achievement. Move me from the skeptic column to believer.
This edition comes with a second disk crammed full with another album's worth of material, starting with the Vs. the Greatest of All Time EP and adding nine singles and B-sides. The band really indulges its noise jones on this disk, with generally strong results. Some of the cuts, including the original version of "Web in Front," the screamfest "Ethel Merman" and the ponderous in-joke "Revenge," typify the worst excesses of early 90s indie rock. But the scene-reflexive grunge of "Audiowhore," the punky rush of "Bathroom," the dissonant pop of "What Did You Expect" and the fist-pumping rock of "Wrong" (the 7-inch version), while less refined than the band's work on the main LP, display plenty of talent and verve. Even better: the odd but utterly compelling "Tatyana," which starts as both homage to and pisstake on power ballads before shifting to roaring postpunk anthemry – it's a cut that really serves notice that the Archers have something special sparking the fire in their bellies.
If you're already a fan, this may be the definitive edition of an indie rock milestone. If you're a cynic like me, this is an excellent re-introduction to a band whose star is on the rise once again.
http://archersofloaf.net
http://www.mergerecords.com
comments powered by