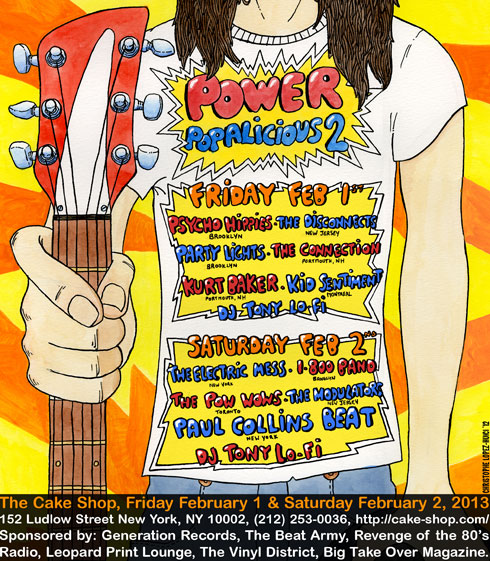 4 January 2013
After being postponed due to the aftermath of Hurricane Sandy, the Power Pop-A-Licious 2 music festival will now take place on Friday, February 1 & Saturday, February 2nd at Cake Shop in New York City.
Conceived and curated by power pop legend (and longtime BT friend) Paul Collins (co-founder of THE NERVES, THE BREAKAWAYS and THE BEAT), the fest will bring together some of the finest young guitar-driven power pop, garage rock and punk-pop bands from the eastern seaboard and Canada. Of the lineup, Collins says, "Power Pop-A-Licious 2 is a unifying rally cry for the thriving rock-n-roll subculture, and is a means for power pop fans of all ages to discover a wealth of talented new acts in one power-packed weekend."
Power-pop-A-Licious 2 is ground zero for a burgeoning DIY power pop scene fueled by the devotion of its fans, the immediacy of the internet and social networking sites like Facebook and Twitter. Each day will feature bands from the East Coast that are left right and center of the new generation of the guitar driven melodic rock scene.
Collins adds: "Today's power pop bands blend punk, garage, retro-power pop, and psychedelic into one swirling sound. Personally I am not a purest about power pop, I am more interested in promoting bands that have cool songs and use electric guitars to get their point across."
Tickets for the fest are $10 and are available in advance from Brown Paper Tickets.
SCHEDULED BANDS FOR THIS YEAR'S POWER POP-A-LICIOUS 2 FEST:
(click on band name for more info)
FRIDAY FEBRUARY 1
DJ TONY LO-FI
PSYCHO HIPPIES (Brooklyn)
THE DISCONNECTS (NJ)
PARTY LIGHTS (Brooklyn)
THE CONNECTION (Portsmouth)
KURT BAKER (Portsmouth)
KID SENTIMENT (Montreal)
SATURDAY FEBRUARY 2
DJ TONY LO-FI
THE ELECTRIC MESS (NYC)
1-800-BAND (Brooklyn)
POW WOWS (Toronto)
THE MODULATORS (NJ)
PAUL COLLINS BEAT (NYC)
Power Pop-A-Licious 2 is sponsored by Revenge of the 80s Radio,The Vinyl District Generation Records, One Chord Progression and The Beat Army.
comments powered by