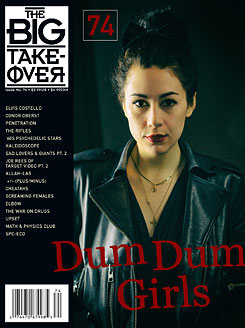 6 May 2014
Pre-order - Subscribe - Renew - Great gifts!
Subscribers: Update Your Address ASAP (if changed)
Once again the big news is that Big Takeover #74 Spring 2014 issue was completed in Brooklyn, NY, Helena, MT, and Oakland, CA this month! The issue stars Dee Dee, cool frontwoman of California/New York rockers Dum Dum Girls on the cover, and features the concluding part twos of our awesome, long interviews with '80s U.K. post-punk stalwarts Sad Lovers and Giants and Target Video film/video legend Joe Rees, as well as fabulous history interviews with Peter Daltrey of English '60s psychedelic stars Kaleidoscope and original 1977-era punks Penetration, while catching up with ageless Elvis Costello, Conor Oberst, and The Rifles. (And shorter chats with Cheatahs, SPC-ECO, +/- (Plus Minus), Math and Physics Club, Allah-Las, Screaming Females, The War on Drugs, Upset, Elbow, and more!
It will begin shipping any day now, so you should see it quite soon! And remember, we only come our twice a year, every Spring and Fall, so you don't want to miss one of our jam-packed 132-page issues! Below is a quick description of its contents.
IMPORTANT: If you are a subscriber and you need to update your address, please tell us right away, as we need to have the shipping order ASAP. Send updates to me at jrabid@bigtakeover.com
And since the issue will soon be shipped to subscribers and stores, now is an excellent time to pre-order it if you would like to receive it, or subscribe if you've been meaning to, or renew your subscription if it has run out. And remember, Big Takeover issues, back issues, t-shirts, CDs (including the limited edition Springhouse CD album, From Now to OK), and our other fun stuff (Big Takeover beer cozies, magnets, buttons, signed posters, etc.) and subscriptions also make the perfect Holiday/birthday/mother's day/father's day/whenever gifts! Especially in this time when we are all trying to economize.
(NOTE ABOUT T-SHIRTS- NEW KID SIZES! In addition to our four mens and three women's sizes, we now offer six children's sizes, 2T, 3T, 4T, and onesies 6 months, 12 months, and 18 months! For the cool kid in your world!)
If you want to subscribe or renew or give the gift that keeps on giving, just go to our secure online Yahoo store (and feel free to indicate which issue you'd like to start with (or have your friends start with), issue 72 (Joy Formidable cover) issue 73 (Johnny Marr cover),or the upcoming 74 (Dum Dum Girls cover). It's only $20 for four issues (save 23% off the newsstand price including average sales tax), or $32 for overseas, or $26 for Canada. Or, for those in the U.S. you can send us a check made out to "Big Takeover" for $20 to the following address:
The Big Takeover
1713 8th Ave. Suite 1-4
Brooklyn, NY 11215
NOTE THIS IS OUR NEW ADDRESS!
Or if you want to pre-order just the upcoming issue 74, you can send us a check for $6 to that address (or paypal to jrabid@bigtakeover.com) or order online.
Here, again, is what's in the issue:
Interviews
Dum Dum Girls' Dee Dee (cover) * Elvis Costello * Conor Oberst * early '80s Brit postpunk stars Sad Lovers and Giants pt. 2 * The Rifles * Target Video film/video legend Joe Rees, part 2 * '77 English punks Penetration * '60s U.K. psychedelic stars Kaleidoscope * Cheatahs * +/- (Plus/Minus) * Elbow * Math & Physics Club * Allah-Las * The War on Drugs * Screaming Females * Upset * Dean Garcia's Curve offshoot SPC-ECO, and more!
Editorials
"New York Yankee in the Montana Hinterlands; Meditation on the Urban/Rural Divide, and the Death of Downtown America" * Kelson: "With An Abundance Of Choice, Year End "Critics" Lists Are More Conservative Than Ever" * Sommer: "Smells Like Teen Lies: The Difference Between Revolution and a Cool Haircut (or Why A Poster of Gerry Hannah Should be on Your Wall)"
Live Reviews
Joy Formidable * Ted Ludwig Quartet * The Magpies * Red Elvises * The Spits * S.F. Punk Homecoming Festival (Mutants, Alleycats, Offs, Rubber City Rebels, Factrix, Roy Loney, Winston Tong, Penelope Houston, Randy Rampage, etc.)
Hundreds of CD and Vinyl Reviews
Daniel Ash * Aztec Camera * Bad Religion * Bevis Frond * Big Star * Michael Bloomfield * BNLX * The Bon Mots * Bubblegum Lemonade * Cheap Star * Chrome * Cloud Nothings * Daydream Machine * Dead Horse One * Dead Leaf Echo * Bob Dylan * Neil Finn * The Gears * Doug Gillard * Jimi Goodwin * Grizzly Bear * Guided by Voices * Lee Hazlewood Industries * Michael Head & the Red Elastic Band * Jimi Hendrix * The Jigsaw Seen * Len Price 3 * Stephen Malkmus & the Jicks * Maxïmo Park * The New Mendicants * Nothing * Off! * Roy Orbison * The Pains of Being Pure at Heart * The People's Temple * Elvis Presley * The Prophet Hens * Real Estate * Savage Republic * The Seeds * The Sensible Gray Cells * William Shatner * The Skatalites & Friends * Slint * Small Faces * Soft Science * Stiff Little Fingers * Temples * Trick Mammoth * Toy * Uncle Tupelo * Veronica Falls * Withered Hand * Wesley Wolfe * X * VA- Good Vibrations: the Punk Singles Collection * VA- I Saved Latin!: a Tribute to Wes Anderson * and more!
Hope you all pre-order it, or buy it when it's out! And/or hope you subscribe, as that is still by far the best way to support the print magazines you love if you want them to keep going. It means a lot to them!
And hope you can share the gift of reading with your friends!
Cheers!
Jack R
P.S. -- Remember, Big Takeover subscriptions (and shirts, cds, and back issues, and other items) make the perfect holiday/birthday/mother's day/father's day gifts! Why not cross a few of your favorite music friends and relatives off your list with us?!
comments powered by