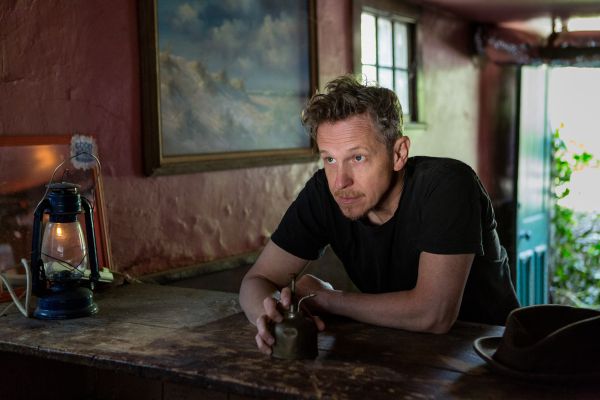 10 September 2019
Stephen Clair – Photo Credit: John Moore
Singer-songwriter/musician Stephen Clair is set to release his latest album, Strange Perfume, on October 11th via Rock City Records.
In an era where most media has a certain easy sheen about, and where rough edges, attitudes, and perceptions are made to be easily digested while you're probably in the middle of doing six other things, Clair is dropping a potent album that reminds us, in part, what rock and roll is about.
Clair first came to prominence when WFUV got behind the single "Jen In Her Underwear" from his 2003 second LP release Little Radio. Clair has continued making records since then, some in the singer-songwriter mold, some punk rock, and some twangier. There are a few things that hold all of those records together:Clair's wicked way with words, his penchant for a hook, and a big rock and roll heart.
Strange Perfume is darkly joyous, raving, sneering, lusty, and thrilling. Clair's songs have always possessed a wry humor. Rave-up rockers veer into stormy seas and back again, while dystopian concerns are made bright with gnarly guitar hooks and Clair's thunderous and able rock band just kicks it up. Just give us one more night to rock our bleary faces off, and be swept up in it
And this vibrantly ringing album title opener sets the tone. The Big Takeover is pleased to host the premiere of its accompanying video that was directed by Jon Slackman. Bookended by a rousing performance by Clair and his band, the video focuses on a wrecked and ruined building that most likely once housed various families.
Slackman pans through the leafless trees growing unchecked outside (and even inside!) the building and then follows the wanderings of three strangers who end up crossing paths there, amid the graffiti-tagged walls and glassless windows.
The song itself is a driving rock 'n' roller pushed by emphatic drum beats and hard-hit piano notes. Cycling guitar lines and tambourine jingle fill out the sound while Clair lets out his lyrics with a casual vocal sway.
Clair goes into the backstory of the song, explaining, "The end of the world doesn't smell quite right, does it? If civilization is truly so doomed, and we're all too distracted to do anything about it, maybe we could just sleep together. You know, one last hurrah after another."
That's the teasing sentiment of "Strange Perfume" from the Malcolm Burn –produced album of the same title. "We've gotten so good at ignoring our lousy relationships, our unresolved feelings. It's become so easy in the digital age. Just ignore everything!"
Website
Facebook
Twitter
Instagram