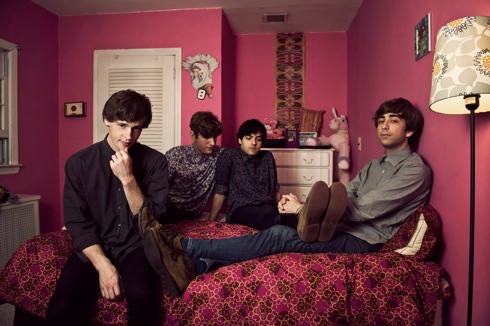 19 September 2011
Romantic Comedy, New Jersey-based Big Troubles' second album, proves to be a dramatic stylistic turn from the band's debut album, Worry. That album, while lovely in its own way, painted the duo of Ian Drennam and Alex Craig as bedroom bliss-poppers, not unlike A Sunny Day in Glasgow. However, the duo had greater things in mind, and as it was to be their debut record for Slumberland Records, they wanted to make a much more distinctive record. So they became a full band, jettisoned the dream pop and cascades of sound, hired legendary producer Mitch Easter, and turned in a record that recalls not the early 1990s, but the late 1980s era of British indie-pop and American college rock. Comparisons to Guadalcanal Diary, The Weather Prophets, The Wendys, or even Mitch Easter's own Let's Active are not unfair. Expanded to a full band was a wise move; it is not unrealistic to envision this record winding up on end-of-the-year lists.
BT: I didn't realize it was actually your second record until yesterday, and I listened to your debut. Romantic Comedy is such a leap forward, both musically and production wise. Was that intentional or did it just happen that way?
IAN DRENNAN: It was completely intentional. We felt a responsibility to take a drastic leap forward, both sonically and creatively. When you get the opportunity to make a second record, you really need to take those risks, and you owe it to the people listening to you that you have grown. Plus, we didn't really want to get classified as a lo-fi, bedroom band. That categorization, it's great, but it can be terribly confining.
ALEX CRAIG: The idea to record an album in a studio was a completely conscious decision. When we started the band, it was just Ian and me, we were recording in our bedrooms, in friends' apartments, wherever we could, and we liked that, at least initially. When we grew into a band that would play shows and practice and flesh out things, so that led to the more evolved arrangements, and we realized we wanted to be a bit more serious.
ID: Once we settled into the four-piece band arrangements, it was necessary. We started to see what we could do, and we realized that in order for us to accomplish our ideas, we would have to go into the studio, because there was simply no way we could make music together as a four-piece in small, confined areas.
BT: Speaking of working with a producer, how did you meet up with Mitch Easter?Was this a conscious decision to seek him out, to accomplish that stylistic change?
ID: We are both HUGE fans of his work. Alex, I believe you were the one who decided that we should get him. I wasn't so sure, though—mainly because it was an intimidating idea! (Laughs)
AC: It's funny, both being fans of Let's Active, we were nervous about doing so! So Alex sent him a little email, and I wasn't even sure if he was still making music. Even if he was, we weren't even sure he would bother to reply to us. So I sent him that email, and was surprised when he replied. He was super-enthusiastic, and it quickly became clear to us that we had to work with him.
BT: Did working with him help to facilitate the maturity of the arrangements, the ones that we hear on the album, or were the songs already formed and the style already decided on?
ID: I'd say it was probably half-and half. We knew we wanted to do something new; that we had the opportunity to work with him, it would be different for us, so we went into it with both open minds, and a desire to do something new.
AC: He had every kind of tool that could help us achieve the cleaner sounds that we wanted. His studio is really massive and amazing and has more vintage guitars and equipment and amps than you could imagine. Just by virtue of the kind of wide variety of tools he had available for us, that really opened the doors for us to explore a more expansive sound.
BT What was he like working in the studio? Was he laid back in his approach, hands-off, or was he a bit more of a taskmaster, working you hard and pushing you to help you produce something really good?
AC: Oh, I think I'd have to say that, well…he may be the sweetest guy I've ever met in
my life! (Laughs)
ID: He's really laid back, and he lets bands and people explore their ideas and their creative side. If you are stuck, he'll definitely help you out, but yet he'll do so in a way that's really unobtrusive. He is a big believer in letting artists have their platform to explore, and though he's super-amazing and can do some really great stuff, he really allows you as an artist to discover that side of yourself, and though we haven't worked with many producers before, I definitely didn't feel like he was imprinting his style on us.
BT: What was your favorite experience working with him?
AC: One day, we were working on a drum track, and it just wasn't coming together for us. So he said, "Hey, I have a buddy of mine, I think he might be able to help us out. He lives right around the corner, and he's really good with this software, and it would probably be a good idea to give him a call, because I think he can handle the editing a bit better than me." And so he said he was going to invite him to drop by and help out with the track. We were like, "Okay, cool." Then he comes in, and it happens to be Chris Stamey! (Laughs) We're both big fans of the dB's, and of his solo work, and so we just sort of stood there for a moment, speechless. Totally starstruck! (Laughs) To Mitch, he was just a buddy of his. They've been friend since childhood, so he just thinks of him as a pal. To us, though, this wasn't just some guy, this man is a legend! We were in awe!
BT: With the record out, you're going to be hitting the road soon. With your new band, are you ready, and how do you feel are now as a live band?

AC: That's a good question! (Laughs) We made this record, and we went on a little tour and played some of our new material, and it wasn't bad, but I have to be honest and say we are still in a little bit of a transition phase to become as clean a live band as we present ourselves. I think the show is still somewhere in between. It's a little noisier, and a little more raw.
ID: That's not exactly our intention, honestly. We're trying to move away from those rougher edges, we like that sound, but yet that sound is confining to us and what we want to do. We're still looking for a way to make it sound a lot smoother when we play live.
AC: We're not the slick musicians we want to be yet—but we're trying! (Laughs)
comments powered by