Japanese media is so hip right now. The manga and anime streaming out of the island nation is getting major coverage in places like The New York Times while being featured prominently in bookstores and movie theatres across the U.S. Japanese music, on the other hand, has not made any kind of significant impact over here. There are some exceptions, like SHONEN KNIFE, PUFFY AMIYUMI, EX-GIRL or THE BOREDOMS, but nothing to rival the public's interest in foreign-born bands from places like Sweden, for example. In a weird twist, however, it seems as though many American acts have made up for this by including Japanese elements in their work, usually in the form of Japanese women cooing seductively. This is hardly a new occurrence, but a few recent examples have sparked my interest.
First there's the most obvious: GWEN STEFANI. The entire concept for her first solo outing, Love Angel Music Baby, is based upon her fascination with Harajuku Girls (fashion forward ladies from a hip district of Tokyo where Gothic Lolita style was born). Ever since the album dropped she's been seen in public with four Japanese girls whom she introduces in the song "Rich Girl:"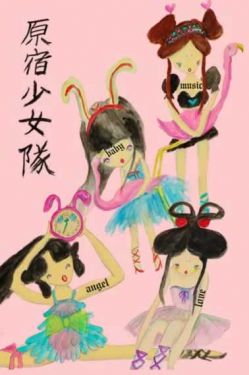 I dress them wicked
I give them names
Love, Angel, Music, Baby…
Now it's up to debate whether the fact that she always walks in front of them and does not mention their real names to the media means that she deems them inferior. I think it's pretty safe to say, however, that a harem of small, quiet, giggling Japanese girls following a tall, blonde, outspoken American woman doesn't go very far to dispel any stereotypes. While I personally love the whole kitschy thing, I do realize the irony of the situation. Stefani, perhaps unwittingly, is perpetuating the idea of Japanese women as silent, coy playthings, while she preaches her own message of non-conformist, feminist fun.
But wait, there's more! After listening to INXS's tepid new album, Switch, I found another great example of the subjugation of Japanese women. The song "Hot Girls" features female Japanese voices throughout the track offering themselves up like some delicious dish. "How about some hot girls?!" they say in Japanese. Or the BECK song off Guero, "Hell Yes," which has a Japanese girl sweetly repeating "please enjoy!" throughout. The notion these songs enforce is that Japanese girls are always ready and willing to submit to any man's desires. This is clearly too limited and constraining a perspective and calls for critical examination, if only to figure out how it started.
There are some artists, on the other hand, whose work attacks such stereotypes. Take DAVID BOWIE's song "It's No Game" off of 1980's Scary Monsters. MICHI HIROTA (who was purported to be Bowie's girlfriend at the time), speaks the Japanese translation of the lyrics when Bowie is not singing, brutalizing the listener with her forceful, angry, almost masculine tones. It's not what you usually hear from Japanese women in American rock, and it's definitely refreshing. Then there are the bands I mentioned earlier, like Shonen Knife, eX-Girl or even Yoko Ono, who totally kill the notion of Japanese women as meek sexpots.
If it sounds like I'm maternalistically taking up the cause of Japanese women, don't worry—I'm not. As a 'super white girl' from Maryland, there is just no way I could possibly even pretend to understand the gender politics of Japan. I just find it very interesting the way women of any country are portrayed in the U.S. media, and since I'll soon be beginning graduate work in East Asian Studies at Columbia, I'm fixated on this stuff. You can't totally blame American guys, especially oversexed musicians, for fetishizing Japanese females, but I'd at least think Gwen would have the decency to let Love, Angel, Music or Baby say a word or two to the press when they're all on the red carpet together!
More on this subject later…
Carpe Noctem!
blog comments powered by

Disqus