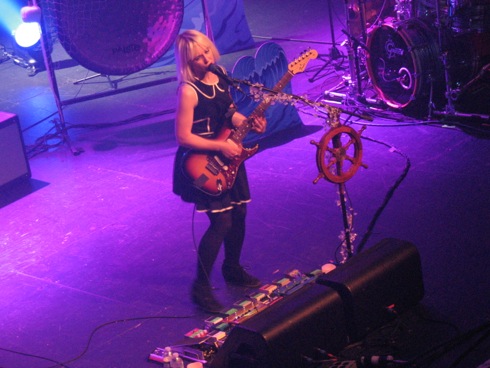 I've been lucky enough to witness this powerhouse two-thirds Welsh, one-third English trio a whopping eight times prior to this one – I may have to add "Joy Formidable Groupie" to my resume – including all six of their NYC headlining shows (at Union Hall, Pianos, Mercury Lounge twice, Bowery Ballroom, and Webster Hall) and two mind-blowing non-NYC gigs (at Princeton, NJ's Terrace F. Club and Harrisburg, PA's Abbey Bar). Each show was incredible, akin to a sonic bombardment of the senses. Still, I was somewhat skeptical of how they would go over in the massive, 3,000-capacity, airplane hangar-sized Terminal 5, a venue that's often despised for its bad sound (I don't think it's that awful, though it sometimes feels cold and metallic), lousy sightlines, and packed-to-the-gills crowds.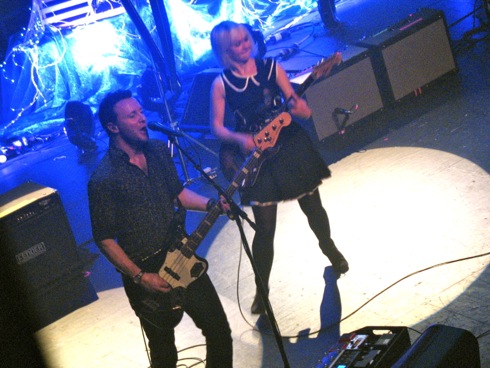 But if any band could tame this cavernous erector set's vast confines, it would be The Joy Formidable – and they did, with ease. (The band actually played their first NYC shows here back in January 2010, opening for The Passion Pit, and they recently supported Foo Fighters and Social Distortion on their tour, playing venues like Madison Square Garden and Newark, NJ's Prudential Center, so it's not like they're not accustomed to big places.) Of the seven times I've seen a show at T5, this was my first time watching from the second-level mezzanine rather than from the floor below, and it made a world of difference. With one of the enormous ceiling-hanging speakers just a stone's throw from my head, the band's bludgeoning onslaught nearly sent me tumbling off the rafters. Thus, what we sacrificed by losing the previous shows' up-close-and-personal immediacy was offset by the band's most thunderous, earth-shattering assault yet!
The band is putting the finishing touches on their second album, which will follow up 2011's The Big Roar (they count 2009's eight-song, 29-minute A Balloon Called Moaning as an EP). But they only previewed one song from it, an acoustic number called "Silent Treatment," played during the encore. It was actually a refreshing change of pace to hear intense singer Ritzy Bryan sing on such a quiet tune, and made me wonder if the upcoming LP might signal a new direction. They also did another new song, "Endtapes," which appeared on The Twilight Saga: Breaking Dawn, Pt. 1 soundtrack.
The rest of the set consisted of familiar tunes, including four songs – the playful "Austere," the joyful "Cradle," the uplifting "The Greatest Light is the Greatest Shade," and the show-ending, instrument-demolishing epic "Whirring" – that they've now played at all nine shows I've attended, yet never grow tiresome ("Whirring" even got a new twist, a pretty harp intro by Stephanie Babirak of NYC's Vuvuzela). Along with hard-edged, punk-like crushers "The Magnifying Glass" and "Greyhounds in the Slips," lurching pounders "A Heavy Abacus" and "Buoy," and Big Roar beauties "The Everchanging Spectrum of a Lie" and "I Don't Want to See You Like This," the setlist was once again all killer, no filler. As if that wasn't enough, drummer (and the band's comic relief) Matt Thomas came out for "Whirring" dressed in a red lobster costume, while bassist Rhydian Dafydd celebrated his birthday. So the band were obviously having a blast.
As I did on eight previous occasions, I left the gig with my jaw dropped squarely to the floor, scratching my head and wondering how such a down-to-earth, friendly threesome can generate such an overwhelming, punishing, and glorious wall of sound.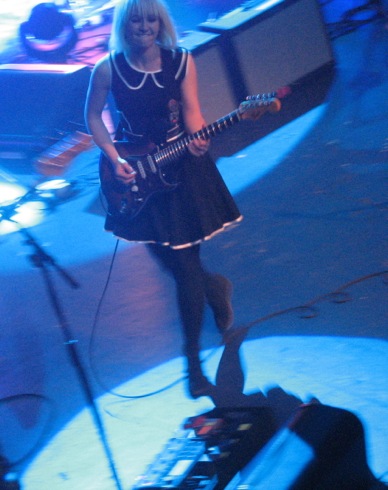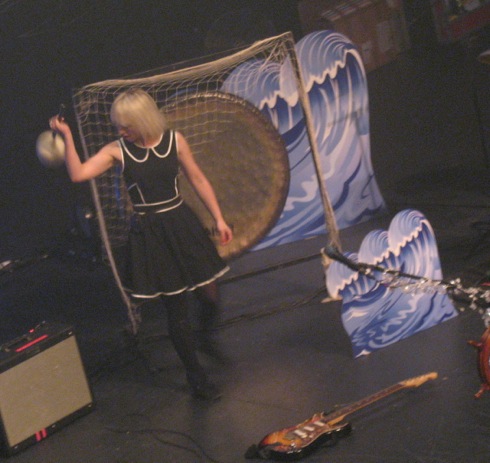 blog comments powered by

Disqus