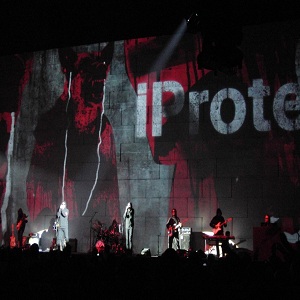 16 October 2010
Aka "The Punk Floyd".
Old Roger Waters (actually quite spunky), brought his "surrogate band" around to the local enormo-dome and let the fans knows where he really stands.
Reconfiguring The Wall from a self absorbed bitch session about isolation into an Agit-Prop paean to anti-war, Waters eradicated the rock star angst and showed that even millionaire rock stars can reinvent their most famous works into a far more cogent and compelling presentation. The political tone was every bit as barbed as any Dead Kennedys or Bad Religion show ever was.
Unlike the original self pitying premise of Old Pink, who blamed his problems on daddy croaking in the big one, authority figures (mothers, wives, teachers) and success; Waters has turned The Wall into an outright attack on war, both past (WW2) and current versions. There are many visions of war and destruction (both personal and property) that are extremely disturbing. More than once I had to turn away. Waters is serving up harsh lessons along with the rock n roll.
While his previous tour a couple of years back drew fire from the Right Wing for anti-Bushisms, the political tone on this tour was more centered, focusing not so much on political leaders as it does on a general distrust and attack on all government.
Thus, "Mother" becomes a metaphor for the Government. "Run Like Hell" becomes an attack on politics rather than a commentary on rock n roll fascism; and the "Pig" becomes a vehicle for political sloganeering. Additionally, there were not so veiled attacks against mass merchandising (especially Apple), religion and big business. Punk Fucking Rock.

Waters put his money where his mouth is. While the tickets were prohibitively expensive (we were able to find last minute tickets at an extremely reduced rate), the production values were top notch. When Pink Floyd originally toured The Wall in 1980, they lost money at every performance due to the costs of putting on the show. Waters' might be a socialist, but he's not a financially irresponsible one.
The actual show is mesmerizing and overwhelming. The Wall is built during the show; but with the various visuals and special effects, you hardly notice until all of a sudden, the band disappears. Luckily, we had seats directly opposite the stage, and were thus able to get the full head on presentation. Those with seats on the side lost the ability to view "through" the holes in The Wall due to the angles.
As far as The Wall being a Waters solo vehicle. It always was. Creatively, it was always his vision and Pink Floyd (especially Richard Wright) were session players in the original presentation. David Gilmour's presence is always missed, however, his role was filled by a singer who aped his vocals pretty well (if anonymously) and two guitar players. While Gilmours' solo's on songs such as "Hey You" and "Comfortable Numb" are part of the classic rock songbook, they are also easily replicated.
There was a really neat part when "Mother" was performed in which Waters dueted with himself (using video from 1980).

All in all, a fantastic show.
comments powered by