One day after playing a sold-out show at Manhattan's Bowery Ballroom, ex-Black Flag/Circle Jerks singer Keith Morris's ferocious foursome announced this free, spur-of-the-moment Brooklyn sequel. Having elected to stay home the night before and then regretting it, I took advantage of this lucky second chance to see them being dropped right in my lap. I arrived at The Bell House a few hours before showtime for my entry wristband, but I needn't have worried. Owing to this show's last-minute arrangements and the fact it wasn't even mentioned at the previous night's gig, a relatively modest crowd showed up, so there was plenty of room for late stragglers. Yet we were treated to an identical setlist as at Bowery, and oodles-better sound than the abysmal, hollowed-out, echo chamber-like acoustics we endured at the band's otherwise incredible July 2011 House of Vans show in Brooklyn opening for Superchunk.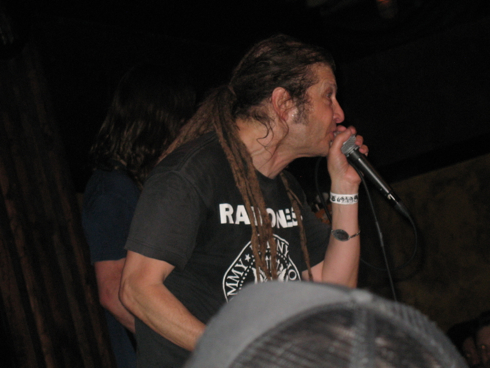 Despite releasing their self-titled full-length debut just 22 days prior to this show, the band's 20-song set focused more squarely on their first four EPs (compiled on one CD as 2010's First Four EPs), blasting through a dozen of their 16 songs. Still, we got nearly half of the new album, too, so no complaints there! And with each succinct, full-throttle track clocking in at barely a minute, their set was over and done in less than half an hour. Throughout, the dreadlocked Morris pranced around the stage like a hungry lion, pausing to strike various poses to emphasize his points, and barking his frustration-filled lyrics into the mic like a man possessed. Guitarist Dimitri Coats and bassist Steven McDonald battered away relentlessly on their instruments, both often assuming Johnny Ramone stances and banging their heads together in unison, while Mario Rubalcaba chaotically flailed away on his drums like a maniacal octopus.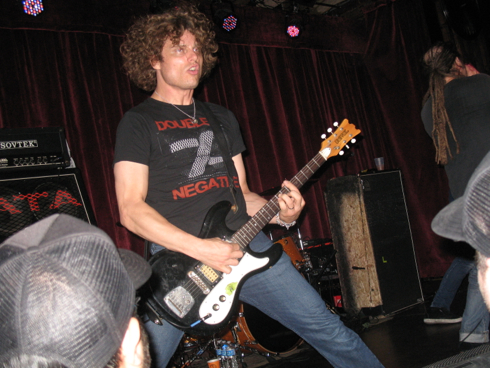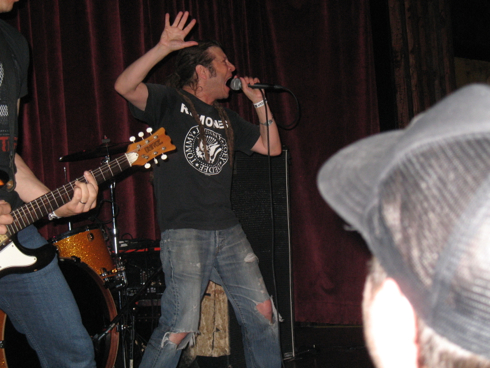 Occasionally, Morris engaged the audience with his wizened and thoughtful banter, like when he introduced 2nd EP's "Jeffrey Lee Pierce" with an affectionate memorial to the deceased (1958-1996) Gun Club guitarist/singer and friend. These interludes allowed his bandmates (and myself) to catch their collective breaths, before the next onslaught of one-minute-and-out songs followed. Perhaps the intensity levels at the previous night's Bowery show were a ladder rung higher, with its constant stream of stage divers (judging by YouTube footage) and the band feeding off the energy of the ravenous, sardine-packed audience crushed against the stage. But even on this more low-key, laid back night, OFF! were most definitely ON!, once again playing with a power and passion that stunned.
blog comments powered by

Disqus