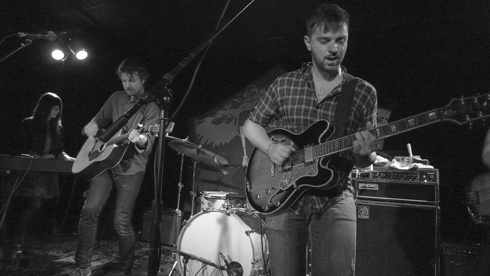 I saw Seattle's Hey Marseilles and LA's Sea Wolf at a fairly new club in Boston's Fenway section. The bands were both excellent and well-matched in terms of musical ability and compositional quality. They both favor strings and poetic songs about nature.
I'd never heard of Hey Marseilles before last night, but I liked them quite a lot. Not only do they have a built-in string section (violist Jacob Anderson and cellist/bassist Sam Anderson), but they have trumpet/bass clarinet/percussionist Patrick Brannon to add exotic accents to their already colorful music. They reminded me strikingly of The Decemberists with their jaunty "Rio" (everyone on stage was clapping percussively).
Hey Marseilles – To Travels and Trunks – Rio by MrAnonymas
Singer Nick Ward has clear, confident pipes and the sound quality of this club space was crystalline. The band trotted out music from their forthcoming album, which shows a real progression musically from their past work. Besides the aforementioned "Rio", I really enjoyed the B-side "Cafe Lights" from last year's Elegy. Keep a watch out for these guys, they show great promise.

Sea Wolf is essentially talented singer/songwriter and multi-instrumentalist, Alex Brown Church. He wrote, produced, and engineered nearly everything on the band's new album, Old World Romance. And while he was riveted to his acoustic guitar all evening, you never forgot who was minding the store. Still, his touring band includes the excellent Lisa Fendelander, who simulated flutes and strings along with deftly played keyboards. Apparently a cellist toured with them this summer, and I was a tad disappointed that the fellow from Hey Marseilles didn't join them on stage. Drummer Joey Ficken provided the back beat, sounding at times like a drum machine, but there was nothing artificial about his often understated beats.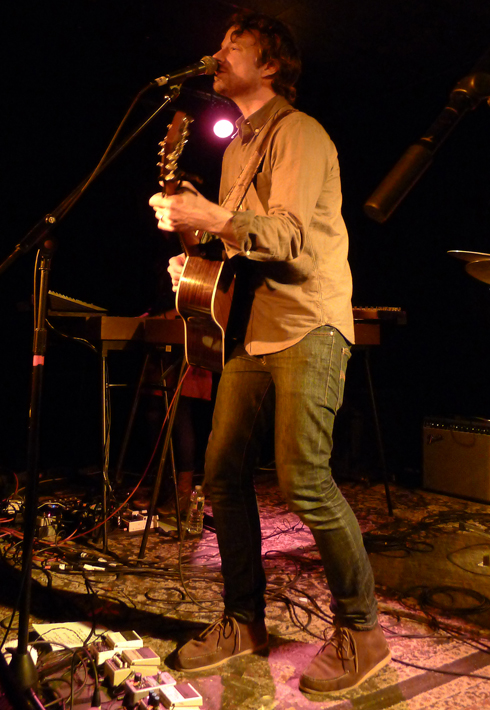 The band opened with "Miracle Cure" from their new album, and treated the audience to an expertly played and earnestly sung set mixing songs from all three of their albums, including the elegant "Priscilla".
Sea Wolf "Priscilla" by serizzzzle
Alex Brown Church's delicate paens to family, romantic longing, and nature resonated with me, and there is much to like about his work. He seems earnest, affable, and deeply appreciative that people came out to see him. While his work has been featured on TV and on movie soundtracks, it doesn't seem to have gone to his head. I've always been keen on his early single, "You're a Wolf", and they closed the set with it, tacking on three songs in the encore.
All in all, it was an enjoyable show and I recommend checking these bands out.
_______
All photos by Elizabeth Klisiewicz.
blog comments powered by

Disqus