With temperatures hovering near the 100-degree mark, it probably would've been more prudent to spend this sweltering July afternoon at a beach or a pool, or at some indoor establishment with decent air conditioning. But this free quadruple bill in Central Park, part of CBGB's inaugural four-day, 300+ band festival, was well worth enduring a few sweaty hours for in the oppressive heat.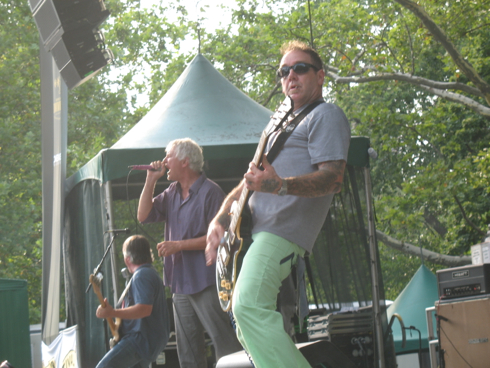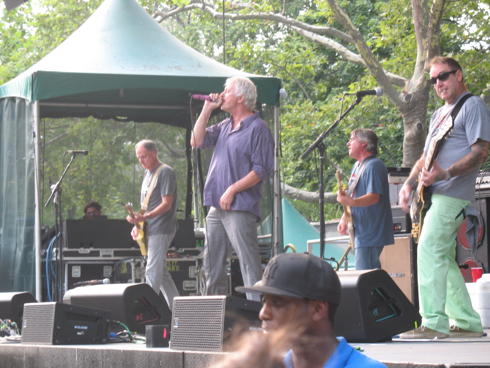 Although this was my ninth time seeing veteran headliner Guided By Voices since 2001, it was only the second time I've experienced the recently reformed "classic" 1992-1996 lineup (singer Robert Pollard, guitarists Mitch Mitchell and Tobin Sprout, bassist Greg Demos, and drummer Kevin Fennell). Unlike their blowout reunion gig at Irving Plaza on New Year's Eve 2011, where they plowed through 48 (!) old LP and EP tunes in three hours, this show's more streamlined 28-song set concentrated on their two unexpected, brand new 2012 albums, Let's Go Eat the Factory and Class Clown Spots a UFO (plus one song, "Hangover Child," from an upcoming third 2012 LP, Bears for Lunch, due in November).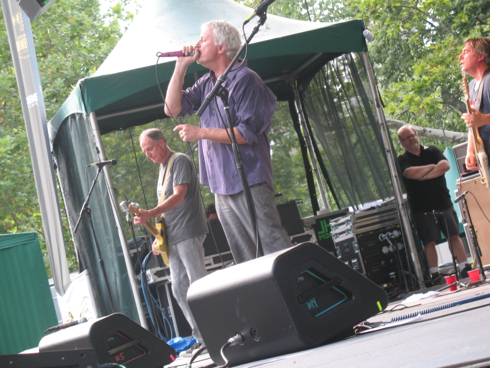 I was still getting to know both LPs, having only acquired them the week prior to the show. But the band's roaring attack – especially Demos's rumbling bass and the cigarette-puffing Mitchell's thick guitar licks – guaranteed that many of the new tunes, like Factory's "The Unsinkable Fats Domino" and Sprout-sung "Waves," and Class Clown's "No Transmission," became permanently etched in my brain's memory bank by the end.
The set's hour-plus length and the inferno-like weather likely kept Pollard & Co.'s alcohol imbibing in check, so the band was still in fine form (read: on fire!) during the show's final third, when they finally rolled out classics like "Game of Pricks," "I Am a Scientist," "Echos Myron," and "Goldheart Mountaintop Queen Directory" ("Shocker in Gloomtown" was the lone oldie played during the set's early going). With Bears for Lunch on the way, and a new one every six months after that (said Sprout to Rolling Stone), here's hoping a GBV show will once again become more of a regular occurrence.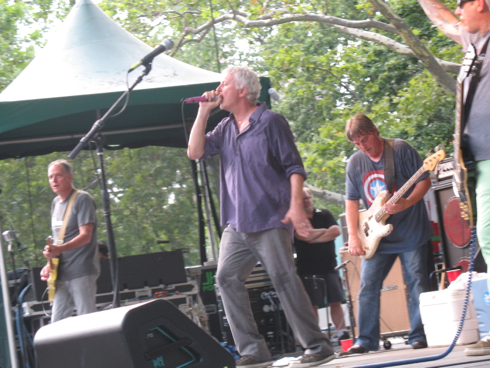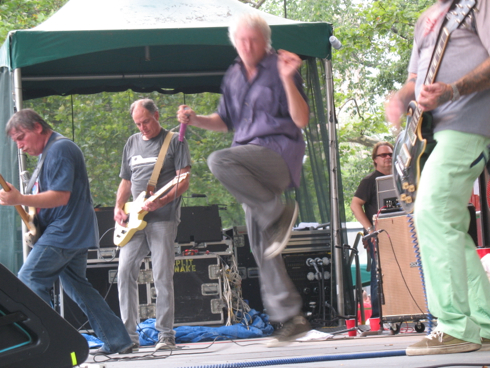 This was my fourth time seeing local five-piece The Pains, and much like the last two times I'd caught them – at Seattle, WA's Vera Project art/music space in Oct. 2010 while on a business trip, and at NYC's Bowery Ballroom in Sept. 2011 – they sounded no-nonsense, tight and explosive. (They were still finding their live footing the first time I saw them, at Brooklyn's Bell House in March 2009.) Their concise 9-song set was split equally between their eponymous 2009 debut and 2011's follow-up Belong, closing with their first single "The Pains of Being Pure at Heart."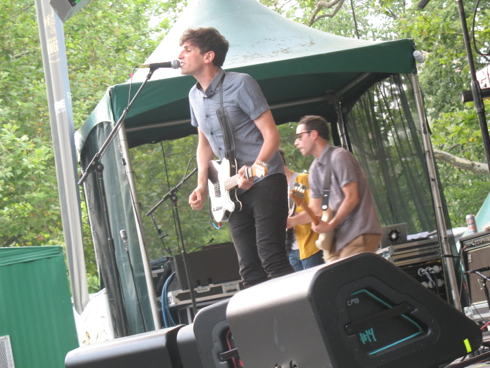 Singer Kip Berman was a bundle of energy, constantly lunging at the mic to deliver his winsome, boyish vocals, while keyboardist Peggy Wang complimented him with sweet, sighing harmonies. As I'd first noticed at that Seattle show, bassist Alex Naidus and drummer Kurt Feldman (who fronted the excellent, now-defunct dream pop outfit Depreciation Guild) have morphed into a formidable rhythm section. They gave older favorites like "Young Adult Friction" and "Everything With You" an extra live thunder, while keeping each song springy and danceable.
I was previously unfamiliar with Philadelphia's War on Drugs. Their Americana-tinged music felt warm and relaxed, with billowing guitar textures and swirly, spacey keyboards supporting Adam Granduciel's Bob Dylan-like vocals. Unfortunately, the band's indistinct, rigid rhythms prevented the songs from standing out, causing my mind to wander during much of their set.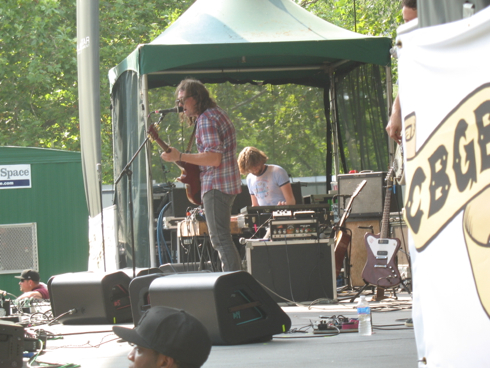 Cleveland, OH's Cloud Nothings, led by gravelly-voiced Dylan Baldi, opened the proceedings with a handful of songs from their new album, Attack on Memory. I liked the buzzed, boisterous garage-pop of their 2011 self-titled second LP, but their set lapsed into a few too many extended, noisy instrumental jams. This took the focus off their indelible melodies, which occasionally broke through, as on the catchy "Stay Useless." Still, they played an energetic set, highlighted by Jayson Gerycz's wild, chaotic drumming.
blog comments powered by

Disqus