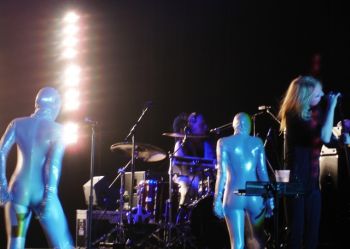 Oh. My. God. I have seen the future of electro and it looks good. While I would usually scoff at anyone suggesting that a certain band would be one of my favorites if I would only listen to them, this time that someone (BT Executive Editor MICK LEWIS) was right. My foray into GOLDFRAPP territory began last weekend when I got their latest album, Supernature, and after seeing them live Monday night, I have been thoroughly converted into an obsessee. All the preconceived notions I had about the group (that they were FISCHERSPOONER clones [Goldfrapp's debut LP was actually released a year before Fischerspooner's debut received wide release -ed.], that they were electro for hipsters and not discerning fans of electronic music, that they were more of the same…) were drop dead wrong. So what follows is pretty rare for an established act: a basically non-biased impression of a band from a first-time concertgoer.
When I got to the venue, what I immediately noticed was the variety of the fans hanging around outside. There were girls and boys in slouchy boots and thrift shop threads, kids in various incarnations of 'goth wear,' a bunch of 30-somethings and everything else inbetween. You can always tell so much about a band from the crowd that they draw, so I was pleased when I saw the heterogenous mix of people heading in. Eventually I followed suit, and encountered a packed house. This was, after all, Goldfrapp's only US appearance, so naturally the show was sold out.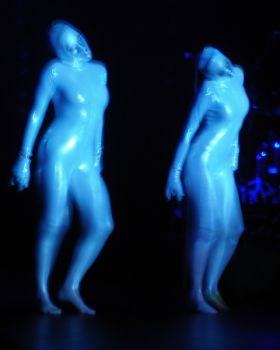 When the lights went down, the place erupted in screams as a deep, pulsing synth enveloped the room. Then lead siren ALISON GOLDFRAPP emerged from backstage in a slinky black catsuit to join her bandmates for "Train." Soon after, two girls slunk onstage wearing silver bikins and werewolf masks (yes, werewolf masks), and executed perfectly choreographed dance moves. Usually something like that would make me laugh, and I'd think it was just kitschy, but there was something else going on here. As the werewolf girls danced behind Alison, she kept on singing as she rubbed a small phallic theremin lasciviously across her crotch [I must have missed that moment! -ed.]. That wonderful grey area between sexy and disturbing is so hard to achieve, and I was just pleased as punch to see Goldfrapp do it all so well.
The show continued to enthrall me, what with the stunning visuals (the lucite bass guitar; violinist DAVIDE ROSSI in Jesus robes; the keyboardist with fabulous teased hair headbanging as she pounded out the synth lines; the dancing girls and their various costume changes) and the amazing, over-the-top music – a tight package of trip hop, sleazy glam and disco.
Along with older hits like "Tiptoe" and "Lovely Head," Goldfrapp played new numbers off Supernature like "Ride A White Horse," which was accompanied by the dancing girls wearing giant mirrored horse heads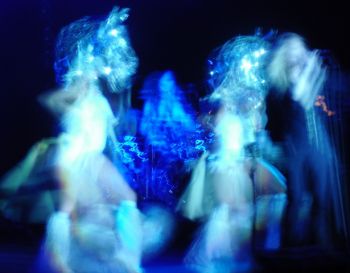 and sexy horse tails, and, finally, the unbelievably catchy "Ooh La La," which hit #4 on the UK charts. For the encore, Goldfrapp came back and played "Strict Machine" as well as "Black Cherry," which featured even more crazy outfits for the dancing girls, before Alison announced that "this really is it!" as the band left the stage. And that was it. But not really for me, because I left the show knowing that my tawdry affair with Goldfrapp was only just beginning. So if you're totally behind the times as I once was—please—for god's sake, just give Goldfrapp a go. You won't be disappointed.
Carpe Noctem!
[Photos by Mick Lewis]
blog comments powered by

Disqus