In my efforts to see Detroit's own ELECTRIC SIX live and in person, I faced the greatest obstacle I have ever dealt with in my history of concertgoing. No, not digging my car out of the 26.9 inches of snow the Northeast received that day, but the fact that I had to forgo my usual platforms due to that snow for flats. As I trudged through the calf-deep piles of sludge that surrounded the outside of the Bowery Ballroom, I felt infinitely shorter in my baby blue Moon Boots. Why is everyone but me so damn tall?! After I entered the venue, however, my griping soon turned to unabashed glee when the Electric Six brought their infectious rock 'n' soul absurdity to the stage.
Their set began with "Improper Dancing," followed by "Future Boys" off of their 'new' album Senor Smoke. (We were informed that the album was actually released over a year ago in Australia.) The crowd was really into it, dancing in all kinds of crazy ways as the show progressed. Singer DICK VALENTINE's stage antics were, well, adorable, as he pranced around his microphone stand in a haphazard ring-around-the-rosie kinda way. When the band got to "Rock & Roll Evacuation," Valentine explained that while they usually dedicate the song to GEORGE W. BUSH, this time, due to his much publicized hunting accident, it would be in honor of DICK CHENEY. Everyone had a good chuckle until they realized that yes, it was indeed our country's Vice President that shot someone.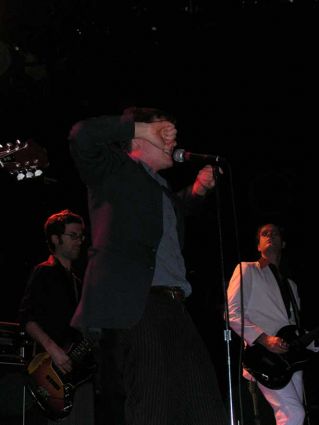 By the time Electric Six got to their biggest crowd-pleaser, "Gay Bar," the audience was quite ready. The second half of the show was my favorite—especially when they segued from "Electric Demons In Love" to the super sexy "Danger! High Voltage." The set ended with "Bite Me," (how could you not love a song that includes lyrics like "Are you ready for the sucky-sucky / Are you ready to be set free?"). Moments after they had stepped offstage, however, the band returned for the encore and went straight into their cover of QUEEN's "Radio Ga Ga." The slinky funk-driven "Devil Nights" was next, and the band finished up the show with another one of their big hits, "Dance Commander."
Having only listened to the Electric Six over the past few years, I wasn't sure if they were merely a joke band heavy on the irony. After seeing them live, however, I can safely say that the band's mix of humor and razor wit with the dirtiest disco, funk, and soul is backed up by tight chops and a winning, completely unpretentious stage presence. Good show, guys.
blog comments powered by

Disqus