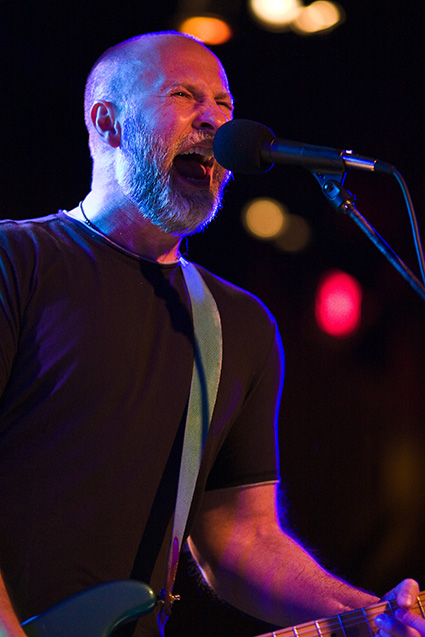 16 March 2008
Having neatly sidestepped the electro-disaster experiment that was Modulate, BOB MOULD decided to play his strong suit by returning to the loud, melodic rock form he's carved out so well, first with Body of Song and now the new District Line. Delivered with a healthy side dish of anguish and fury, the new songs (especially "The Silence Between Us") sat comfortably beside the well-known SUGAR and HUSKER DU songs that also made up a good percentage of the passionate, sweaty, kinetic ~90 minute set he and his band delivered in front of a comfortably full house at the Paradise. Age will mellow any person, and the white-hot fervor that blazed in the SST days doesn't reach the same Scoville rating today, but the hooks, melody lines, and unabashed rock power of his Strat (where are you, Flying V?) still delivers on mark. With a serviceable (drummer Black) to crack (JASON NARDUCY, bass) band stoking the engine, and BLOWOFF partner RICHARD MOREL adding textures via keyboard, Mould was able to convincingly pull off both the lighter pop stuff ("See a Little Light" and "If I Can't Change Your Mind") to the full-on head kickers ("Hoover Dam," "Paralyzed," and "A Good Idea," which is certainly the best song the PIXIES never wrote). An unexpected highlight of the night was "Hanging Tree," a long and dirgey crawl through broken glass and rusted barbed wire which will make me reassess Black Sheets of Rain, a record I've not listened to in over a decade.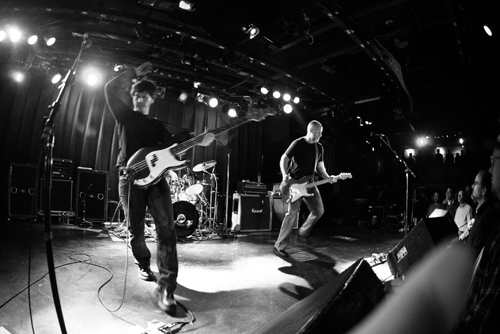 I've seen Bob play a few times in the past, with Hüsker Dü, with Sugar, and solo; both with a band, and by his lonesome, with only an acoustic guitar for company on stage. This was clearly one of his happier shows, where he was smiling and sharing side talk with the band and support crew between songs, and clearly was genuinely appreciative of the well-earned crowd response, which only got more frenzied when the vault containing the Dü nuggets was cracked open. First we got the New Day Rising treats of "I Apologize" and "Celebrated Summer," where Narducy was like a kid in a punk rock bass riff candy store, really letting it go and making it all but impossible for me to get a good clear photo of him in the murky lighting; a searing "Divide and Conquer" capped the regular set. By the audience-initiated second encore, the thundering descending chords of "Chartered Trips" and the huge crowd pleaser of "Makes No Sense At All" were thrashed about, and Narducy's backing vocals weren't a half-bad substitution for GRANT HART's. About the only small nitpick I could make is that material from Beaster was the only phase of his which was totally ignored, and it's an essential record which would shine with this lineup ("Tilted," anyone?). Anyway, a great show from a guy who's still got it. Thanks, Bob.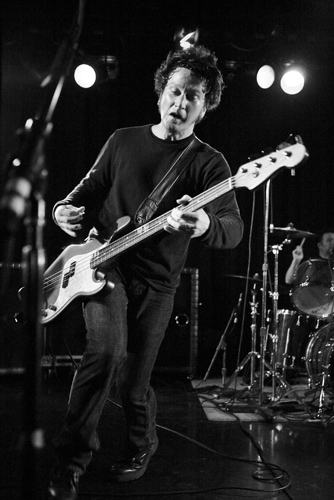 SF-based five-piece HALOU played a set that was long on attempted textures and atmospherics (complete with over-emoting lead singer), but short on delivering meaningful content. The sound mix was not working in their favor, and despite the presence of two guitarists, I could plainly hear the sound of the pick against the strings rather than the actual amplified sound from the PA.
comments powered by